Protect MetaTrader terminal
---
Learn How to Use the AlwaysUP Software to Get Maximum robust Forex VPS Server
---
In this tutorial we will provide you with detailed instructions on how to use NextPointHost AlwaysUP Software. This unique software is installed by default on each profitable trading server. It's icon is placed on the Desktop. In case you can not handle the configuration yourself, please contact our 24/7 support team, to help you.
First you need to start AlwaysUP with administrator permissions.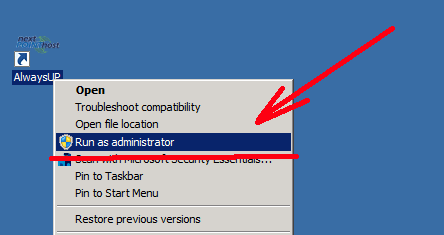 You will see security message from User Account Control (UAC). Click Yes and give the necessary permissions: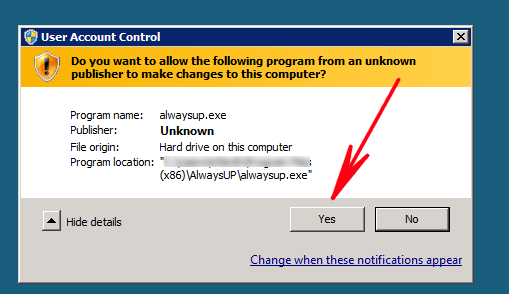 Then you will see the main window of the application. There click on the "Add" button, as shown on below picture:

Mark the MetaTrader terminal, which you want to protect and click the "Open" button: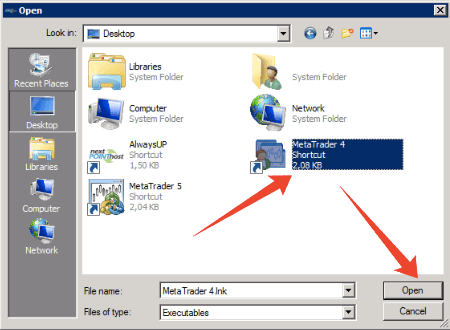 Repeat the Add step, for all additional MetaTrader platforms which you use. Once you complete, activate the protection mechanisms. Click "Start monitoring" button.

The above steps instruct AlwaysUP to re-open accidentally closed or crashed trading terminals. The monitoring will help to keeping your trading constantly on.
VERY IMPORTANT:
When you login into trading account for first time,
DO NOT Forget to select, the checkbox "Save account information".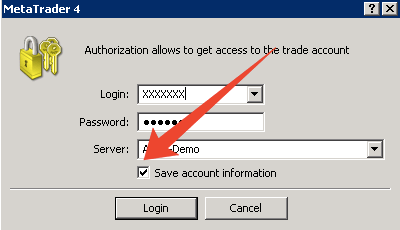 If the checkbox "Save account information" is not selected, MetaTrader will be restarted, in case of problem, but your trading will not continue automatically, because terminal will not be able to initialize connection to the broker's server.
Do not worry about your password! It is storing securely into encrypted hash. No one can not restore it from that hash. This is a feature of MetaTrader itself. This functionality is NOT developed by NextPointHost team. The option is availble on all MT4 terminals, no matter where they are installed.
Here is the end of our tutorial on setting up AlwaysUP monitoring. This is the feature, responsible for keep your trading terminals constantly running.
Read all additional tutorials from this section, in order to understand:
---