What is WordPress page
---
Everything you'll need to know about WordPress pages
WordPress pages are the standard built-in post type that allows you to publish content on your website. They were introduced for the first time at 2005, when WordPress version 1.5 has been released. Till this moment WordPress has been used as blogging platform only. There was only post. Most of the bloggers at that time, wanted new feature. They wanted feature which allow them to create pinned, rarely changed posts with important information. For example information about the name of the blogger, contact details, physical address and etc. The developers give the desired feature. They named it "Page". Nowadays it is an integral part of our lovely CMS platform. We can tell so many things about pages. Below you can see brief contents with the different subtopics.
Subtopics about the WordPress Pages covered in this tutorial:
---
What you can do with WordPress page?
---
Every website requires at least one page to be visible to the public. WordPress enables you to create as many pages as you need. They are similar to posts in that they have a title and body text, but they are different because:
Pages are designed for static content. This means they're for content that rarely changes over time, like Contact details, About Us, Terms of Services and etc.
By default, pages do not allow comments. Pages aren't meant for social engagement. They are designed for sharing information.
You can use a page to display posts. The opposite is not possible. Posts can't visualize pages.
Pages can be organized into pages and subpages. They can have a hierarchy. This means you can put pages under other pages. By making one "Parent" of the other, thus creating a group of pages.
Pages can use different Page Templates, including template files, Template Tags and other PHP code.
More sophisticated themes may provide a wider range of adjustments or display options for individual pages.
It's quite possible to make a website using WordPress which only contains pages.
What you can't do with WordPress page?
---
Pages are not files. They are stored in your database, just like posts.
Pages are not listed by date. They can't be categorized or tagged like WordPress posts.
Pages cannot be associated with Categories. They can be assigned Tags. However, Tags on Pages are not included in lists displayed via the "tag" permalink.
The organizational structure for Pages comes from hierarchical interrelationship. Not from a system of categorization. (e.g. Tags or Categories.)
Due to their static nature, pages aren't included in RSS or Atom feeds and won't have date or time publishing.
You cannot put Template Tags, PHP code or Post content without using a WordPress Plugin. Caution! integrating PHP code directly into page or post content may be a security problem! It can leads to unexpected errors on your website. So don't do it, except if you are not skilled developer.
Pages and Posts can be interpreted differently by site visitors and by search engines. Commonly, search engines place more relevance to time-dependent site content like posts. The serach engin logic is that newer post on a topic may be more relevant than a static page. This is not always true. Imagine page, created for specific topic by professor before few months. On the other hand you have post with the same topic, posted before few minutes by layman. Which will be more useful?
How to add a new WordPress Page
---
Creating WordPress pages is practically the same as creating posts. The only difference is visible on the right side of the screen. The posts allow you to select categories and tags. The pages give you the opportunity to arrange them in hierarchies, apply custom templates and reorder them as you wish. So, let's focus on those parts.
To get started, visit your admin dashboard. From the left menu, select Pages and then click on Add New.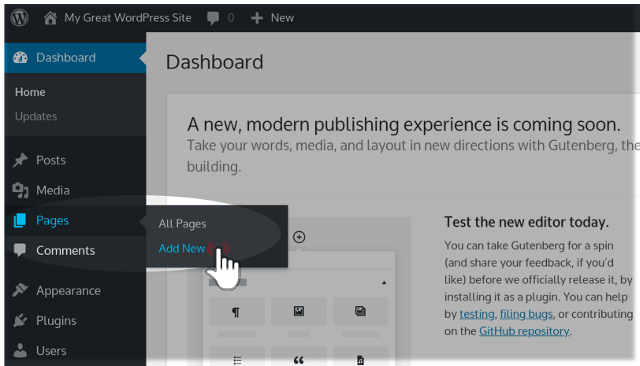 You can begin editing your page. To do this, just add whatever content you'd like in the page editor. You can type text directly into the box. Place images or other media using the Add Media button. You can include code through the Text tab. Once you've ready to publish the page click on Publish button.

Changing the URL of Your Pages
---
To change the URL part (also referred to as "slug") containing the name of your Page, use the Edit button under the Page title on the Edit screen of the particular Page.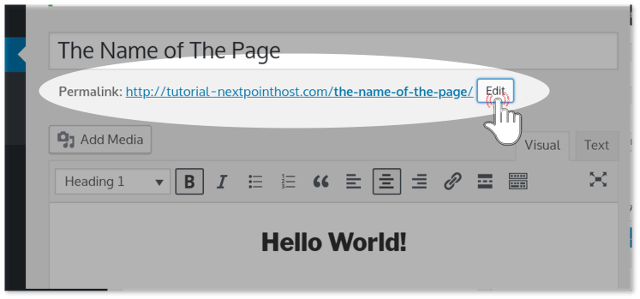 How to reorder WordPress pages
---
When you add a new page to WordPress, it becomes a part of your navigation. Depending on your installation default setting, WordPress will either arrange your pages by date published or in alphabetical order. You can change this to any other way of hierarchy. Click on Pages within WordPress.
You will see a list of all of the pages you've created so far. Select any page. This will open the Editing screen. Scroll down to the Page Attributes box, located at the right side.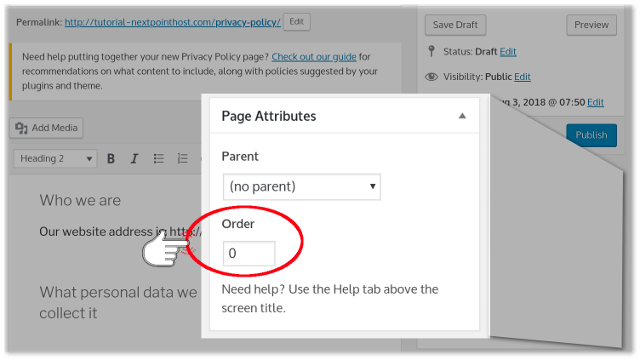 Use the Order box to determine what order your pages will appear in on your website menu. If you leave the number at 0, for example, the selected page will be the first one in the hierarchy. If all pages are set at 0, they will be organized alphabetically.
Once you click on Update, all your settings will be saved. You'll want to do this for each page on your site. If you add new pages later, you can follow the same steps to organize them within your existing hierarchy.
Removing a WordPress Page
---
In case, that want to delete a page, the steps for doing so are straightforward. Go to the Pages screen of your dashboard. Hover over the page you want to delete, and you'll see the word Trash in red lettering.

The link will move page to your Trash bin. Completly deletion of pages can be made by clicking the Trash link above the pages listing. Hover over the page you want and click Delete Permanently. If you'd like to restore page, you need to click the blue button Restore.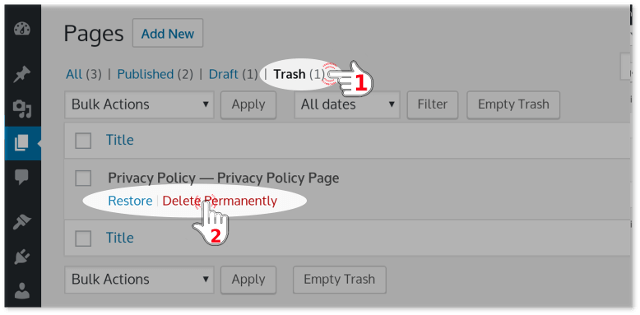 Conclusion
---
WordPress enables you to quickly add, edit, and organize pages on your website. These pages are primarily used for static content and can be organized hierarchically as part of your site's overall architecture.
Takes top quality wordpress hosting on special price! It will enable you to apply everything learned in this tutorial.
In case that article helped you to answer some of your questions, Share it inside all social networks! Share it inside the forums. Share it into websites. Let all people know, how valuable is the article! That simple step will help us to provide you more articles in the future. Thank you for the support.
Additional Readings from Create a Website with WordPress
What is WordPress post
WordPress Categories
WordPress Comments
---