How to install MetaTrader 4
---
Tutorial for Beginners
This Beginners Tutorial explains "How to install MetaTrader 4" platform. The process is very simple with several clicks. A few minutes later will have access to all live currency prices. No advance skills required. Once completed the steps, will have fully functional trading environment. NextPointHost is independent world company. That's why in our example will use non-branded metatrader 4, downloaded from the official website of the vendor. You can use the same steps for installation of branded metatrader 4 of any forex broker.
MetaTrader 4 Tutorial for Beginners:
MetaTrader 4 download
---
First, login to your server.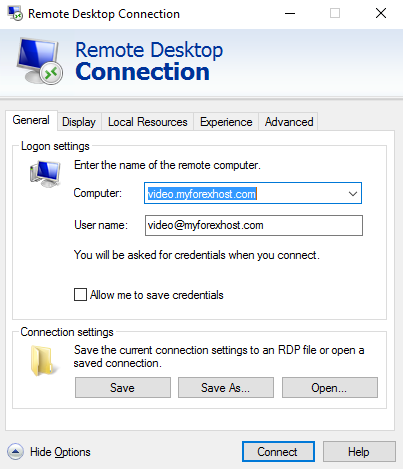 Open web browser and type the url from where you will download the MetaTrader 4 installation file.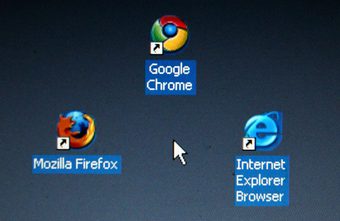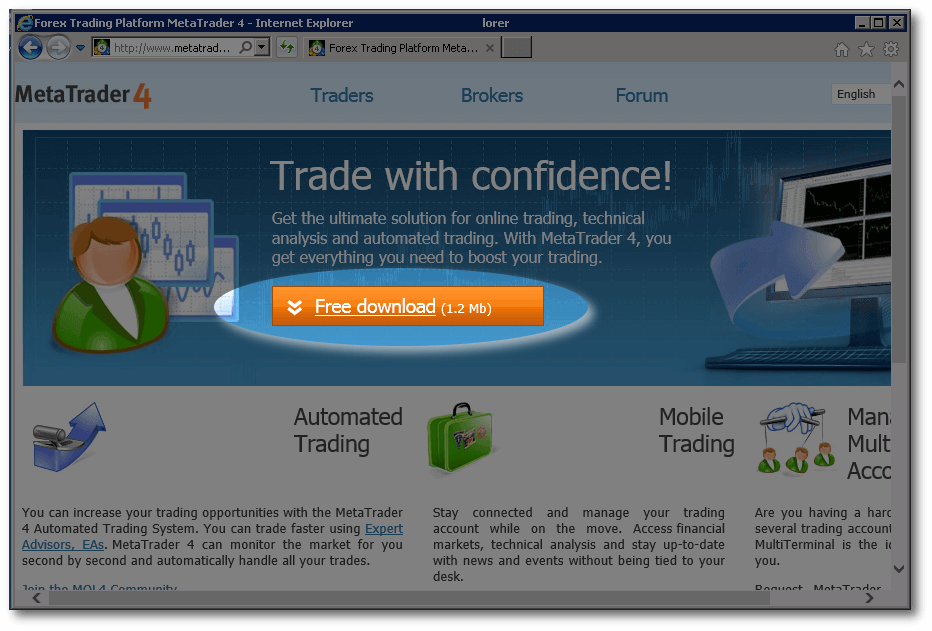 MetaTrader 4 Installation steps for beginners.
---
Start setting-up process
Once download MetaTrader 4 file complete, click on "Run" button in the balloon which appears.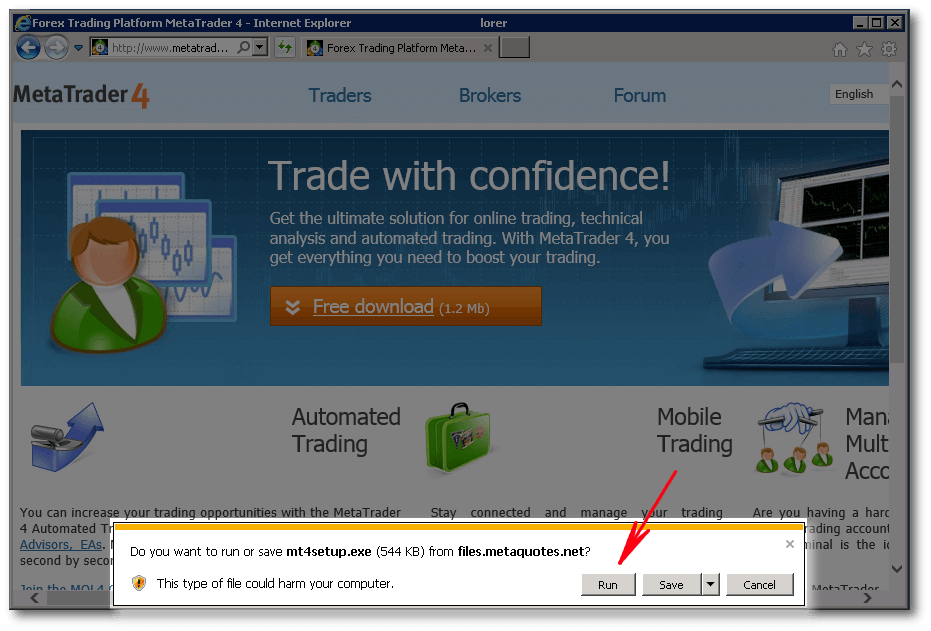 Follow Software Advisor
You'll see the "MetaTrader 4 Setup Wizard".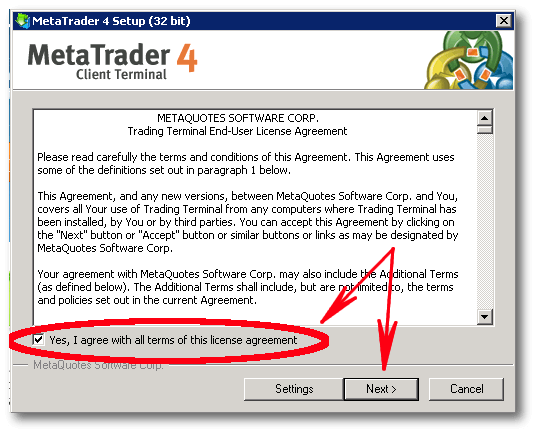 Check-mark on "Yes, I agree with all terms of this license agreement" and click on "Next >" button.
Choose Installation Folder
This step of MetaTrader 4 installation tutorial allow you to choose location of disk, where files of the application to be stored.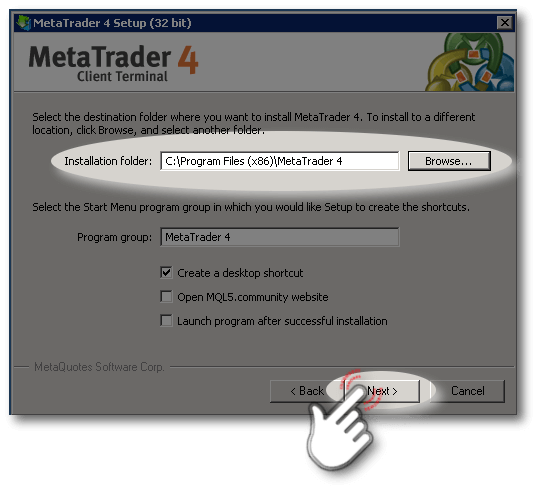 The default location is "C:\Program files (x86)\MetaTrader 4". No need to change the location, if plan to trade with single terminal. In order easy identification of multiple terminals in the future, use more memorable location like "C:\Users\Name\Program files (x86)\Demo-account". Later when install more terminals the new location of them can be something like "C:\Users\Name\Program files (x86)\REAL-account".
Successful MetaTrader 4 Installation
Clicks on "Next >" button. Now will see the final step of the installation tutorial.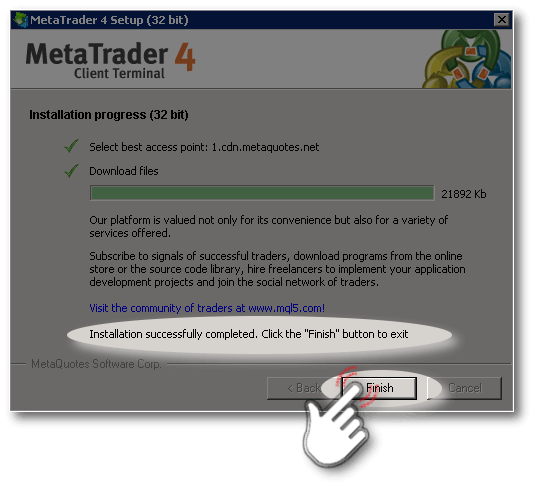 Wait few seconds, until the MetaTrader 4 installation complete. You'll understand, that everything is finished, when see the text "Installation successfully completed. Click the "Finish" button to exit". This is the end of our beginners tutorial.
MetaTrader 4 for Mac OS.
---
The client terminal doesn't have versions for Mac OS! All installations tutorials, are workarounds. They use unstable applications like "Wine" or "PlayOnMac". The both applications are free software emulators of Microsoft Windows OS. These programs are father and son. "Wine" is the father. "PlayOnMac" is build on the genetics of "Wine", using almost the same code. They allow running Windows applications under Mac OS. The both can not guarantee stable environment. The only reliable way for use MetaTrader 4 on Mac is to purchase forex vps!
MetaTrader 4 for Android
---
Into "Google Play" can find application, which promise to allow you "...to choose from hundreds of brokerage companies and thousands of servers....MetaTrader 4 Android enjoy powerful functionality for Forex anytime and anywhere in the world. The entire selection of analytics and options is in your Android device now!....". This is complete bullshit. A total scam that lead to very fast loss of your money.
Do you think everything on screen is true?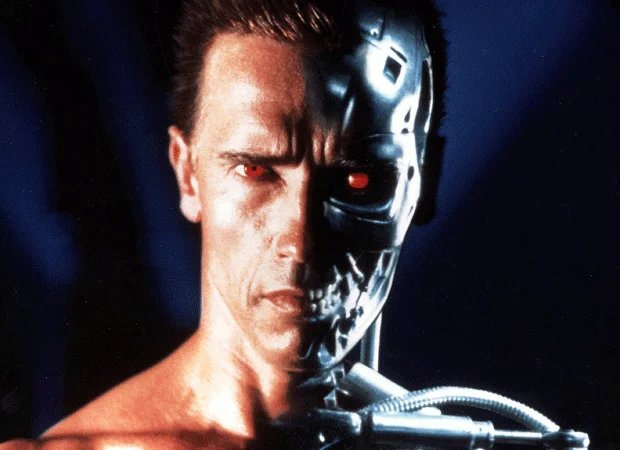 Explaining all problems of MetaTrader 4 for Android is out of the scope of current beginners tutorial. To trade on your mobile device — use Best ForexVPS!
Final thoughts from this MetaTrader 4 Beginners Tutorial
---
We hope you enjoyed this guide. The best way to master these tips and techniques is to go ahead and try them out for yourself using MetaTrader 4. If you're wondering how to play around with MetaTrader 4 without risking any money, the best way is with a demo account from some broker and hosted on nextpointhost server.
Bookmark the permalink as future source of information.
At the left navigation menu you will find links to additional useful articles, that will help to make the everyday use of NextPointHost services easier. They'll teach you to utilize the power of the platform.
We are constantly updating section with new tutorial.
Enjoy of the reading our Beginners Tutorial!
---
See the steps of this beginners tutorial on a Full HD video. Play the clip from NextPointHost official YouTube Channel:
---
---