Install WordPress with One-Click Installer
---
How to Use WordPress Manager to create Great website.
The installation of WordPress can be easy and fast. Use NextPointHost one-click WordPress installer. It will take one minute. No advanced skills required, to have a fully functional WordPress website inside your hosting account.
Follow next steps and be ready for less than a minute:
1. Log into your cPanel
2. Then scroll to the end of the page on "APPLICATIONS" section and click on WordPress Manager.

3. After you are log into WordPress Manager, click on Install Button.

4. Now you are redirected to Site Software . Click on Install button again.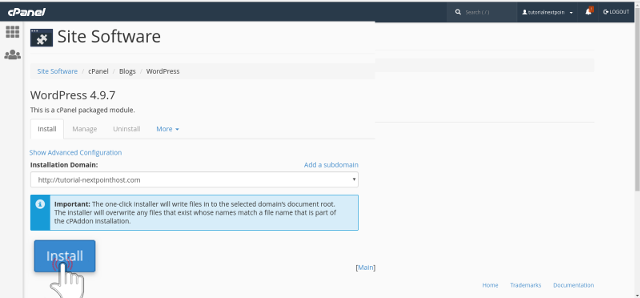 5. Congratulation! Your great looking, mobile-friendly website is ready.
On the screen you see access details, for the website management.

Important!
Save your automatically generated user and password. Those credentials are very important for managing your WordPress site in future.
That is the fastest way to create website. Don't waste time!
Do you want to such website too?
Grab high quality wordpress hosting on special price!
---