AlwaysUP Protection Software
---
Stop lose money due to technical issues or unresponsive trading software
The AlwaysUP software is the result of our long experience in hosting business and financial trading. All its features are designed with the idea to maintain your trading without interruption in all possible situations and to keep you informed about any issues which can lead to financial losses.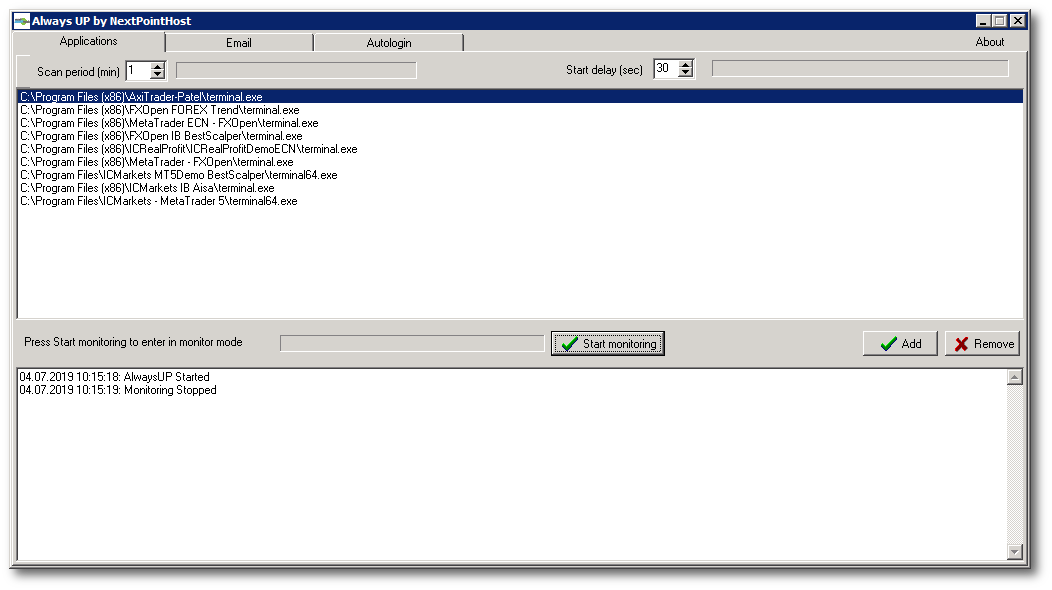 The NextPointHost's AlwaysUP software is an unique application, part of AlwaysUP Protection technologies, to guarantee reliable, strong environment for mission critical business software. It protects all well known trading software from accidentally closing or hanging due to bugs or misconfiguration. AlwaysUP automatically launches, all trading terminals in case of server reboot. It gives you complete information about what's happening with trading software, from server side point of view. This unique software maintain log files with information about:
start time of the server.
time of server reboot or shutdown.
start time of trading software.
stop time of trading software
the reboot time of trading software.
interruptions of trading terminals.
when the protection of your server is on/off and much more.
To be informed in real time about every possible issue of your automatic trading, AlwaysUP can be configured to send instant notifications, once specific actions are happening.
NOTE: The software was installed by default on each low latency Forex VPS. It's icon is placed on the Desktop. In case that you are not able to find it, please contact our 24/7 support team, to help you.
System requirements
---
These are the basic requirements for installing AlwaysUP Software. If your device does not meet these requirements, you may not have the great experience intended with AlwaysUP Software and might want to consider purchasing a forex vps.
Processor: processor of basic plan or

faster processors of higher plans.

RAM: 5MB.
Hard drive size: 2MB

or larger storage drive

.
Graphics card: NextPointHost's graphics card or compatible with DirectX 9 or later with WDDM 1.0 driver.
Display: NextPointHost's display or other compatible at least 800x600.
Internet Connection: Internet connectivity is necessary to perform updates and to download and take advantage of some features. The Internet connectivity is used also for sending instant notifications at case of problems with trading process.
Necessary permissions: Administrator permissions. The highest level of permissions are required, because this is a operating system tool who interacts with other hardware AlwaysUP technologies. In case the software is started without necessary permissions some of features like "automatically start trading after server reboot" will not works.
Bookmark the permalink as future source of information.
At the left navigation menu you will find links to additional useful articles, that will help to make the everyday use of service easier. They'll teach you to utilize the power of the server.
We are constantly updating that section with new tutorials.
Enjoy of the reading!
---
AlwaysUP Protection® CONFIGURATION GUIDES:
How to autostart MT4 after server/vps reboot.
AlwaysUP Protection® for cTrader
AlwaysUP Protection® for NinjaTrader
AlwaysUP Protection® for TradeStation